Thermoform Plastics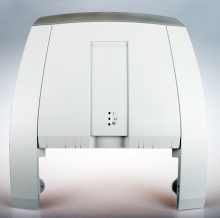 Heavy gauge thermoforming is the logical choice for high quality, cosmetically superior parts, tooled at a fraction of the cost of competing processes.  An award-winning, acknowledged frontrunner in the thermoforming industry for more than four decades, we are committed to design and engineering excellence in our drive to exceed customer expectations. We team with our clients as active partners through every phase of product development to help them attain the highest quality parts and the shortest possible lead time.  In brief, we provide our partners with engineering and design assistance to help reduce labor and material costs as well as speed the new products to market. The parts we produce add value to a finished product by fitting seamlessly through integration and fit, durability, of course, affordability.  Our engineering services encompass in-house mold design and fabrication, pre-production samples and product modification. We work with clients to select the optimal processes and materials for each part. Although the evolution of a specific part differs to meet the unique needs of each customer, what follows is a typical part creation process.
Materials:
HIPS (High-Impact Polystyrene)
ASA (Acrylic Styrene Acrylonitrile)
ABS (Acrylonitrile-Butadiene-Styrene) and ABS blends
PC (Polycarbonate)
HIVEWPE (High Molecular Weight Polyethylene)
Acrylic
HDPE (High-Density Polyethylene)
FIMWPE (High Molecular Weight Polyethylene)
PVC Alloys (Flame Rated Polyvinyl Chloride)
PETG (Polyester Terephthalate Glycol)
Typical Applications

Covers

Industrial Water Management

Passenger Train Interior

Lawn Mower

Marine

Medical Electronics

Business Equipment

Handles
Advantages
Upgrade from Sheet Metal Manufacturers using sheet metal for product housings can affordably upgrade to thermoformed plastic to create a more contemporary exterior for their product.
Upgrade from Molded Fiberglass Products with fiberglass exteriors can be significantly reduced in weight and cost by upgrading to thermoformed plastic.
Molding Technologies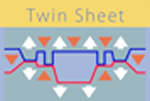 Twin-sheet Forming: Twin-sheet thermoforming produces a double-sided, hollow panel with features on both sides of the exterior to create multi-dimensional housings and enclosures, strong yet lightweight, as housings for hardware and components, pockets or enclosures or panels that require thermal or acoustic insulation.  Twin-sheet thermoforming can replace two processes with one, save time and labor, produce a seamless part and create a stronger structure so you end up with a lighter, cheaper component.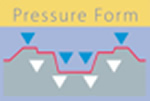 Pressure Forming: Use pressure forming when the part will be the "face" of the product expecting a long life. We can pressure form a company logo or model designation with styling lines, surface texture or other features in a light weight and durable part. Use pressure forming when there are undercuts or rims and a greater depth of draw.  Pressure forming competes with injection molding in terms of surface detail where sharpness and crispness of styling lines and logos is important. It has much more affordable tooling with a shorter time-to-market with easier updates and modifications.
Vacuum Forming: Vacuum forming is a one-sided process. The finished part will have shape and detail on one side. The advantages to vacuum forming are less expensive tooling, faster turn-around and easier, less expensive updates and modifications compared to injection molding.  Thermoformed (or vacuum formed, as it is also known) plastic is the state-of-the-art process for producing panels, covers, bezels and housings that are attractive and durable — yet lightweight and affordable.
Quality/Certifications:
ISO 9001:2008

UL Certified