Metal Stampings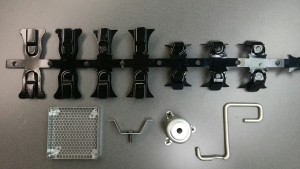 Short and Medium Run Dies – This type of low cost tool was invented in the Minneapolis area in the 1950's and were originally referred to as "pancake tools" or "soft tools".  They are now more commonly referred to as "short run tools". Even though they are called short run tools, they are good for hundreds of thousands parts through their life. The main advantages of short run tools are low cost, fast development and quick tool set up.
Technologies
Work Cells – We designed an innovative method of using "work cells" to group operations on a single part together in one area.  This allows us to concentrate our efforts to achieve the highest standards in quality and throughput.
Progressive Tooling – We also offer long run, progressive tooling. This type of tooling combines multiple operations into one tool. Strips of material are advanced through the stages of the tool to produce a complete part. Progressive tools save on material handling and therefore saves you money your part price.
Turret Presses – used for blanking and piercing of prototype or low volume production parts. Our newest unit has sophisticated forming capability for small features. 
Laser – We have a 4000 watt laser with a full FMS system that we can use for prototype orders to production. • Manufacturing capabilities to support prototyping or low volume production using our laser, turret press or short run tooling. Jobs can be hard tooled with stage tools or progressive dies as volumes increase.
We are unique in serving the electronic enclosure market while having expertise in short run and long run stamping and tool building.

State of the art tool design capabilities including AutoCAD® with Striker®, Pro-E® and Solidworks®.

17 experienced toolmakers between two locations, many with over 20 years of experience.

Trained set-up operators and programmers.

MRP materials system to schedule and manage inventories and track WIP.

Strong financial position.

Customer structured teams with Program Managers to handle your account.
Wire Forming
We have 3-D wire forming equipment to fulfill our customers' requirements.
Round and Square wire
Many secondary operations including; drilling, swedging, piercing
Formed wire from 2mm to 16mm
In-line lathe capabilities.  Can be used in a cell with a 60 ton press to perform secondary operations.
Quality/Certifications